During the month of May, Humphrey Management team members, again this year, supported numerous community partners throughout Maryland, Virginia, West Virginia, and Pennsylvania by giving their time, skills, and community spirit to help make our areas of the world better places.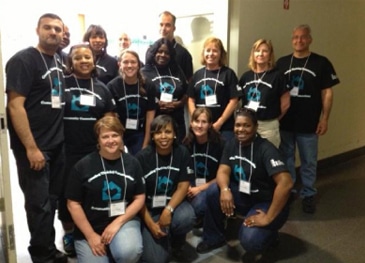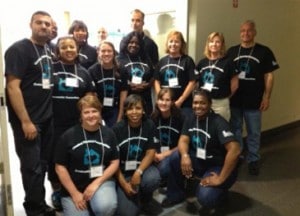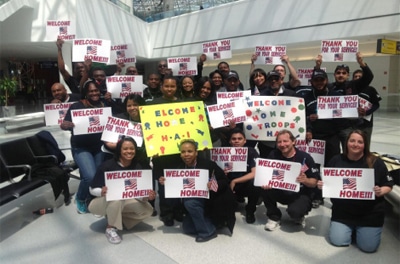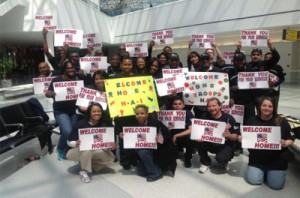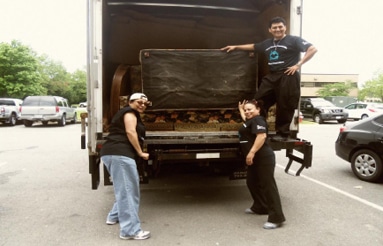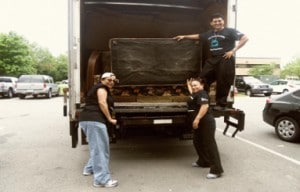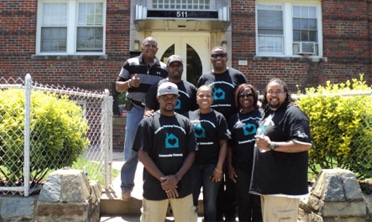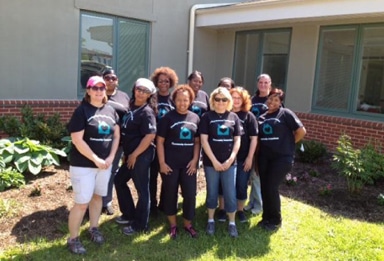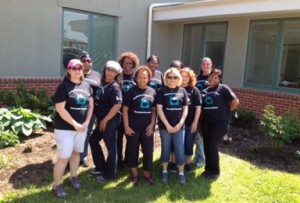 From preparing meals for the elderly and homeless, to welcoming troops home from active duty around the world, Humphrey team members devoted over 1,345 hours with eighteen different organizations. Thank you to all of the agencies and organizations who work hard every day to help their fellow community members and improve our environment.
These organizations and their projects include the following:
Emmitsburg Borough – Team members helped with conserving the trail for walking and biking by removing trash and debris for the city of Emmitsburg.
Empower House  – Team members painted and cleaned temporary housing for domestic violence victims.
Welcome Home Maryland – Team members made signs, decorated the arrival area, cheered, and handed out care packages to soldiers returning home from active duty.
Fauquier Fish – Team members helped at the food bank to prepare meals and summer food for kids in need. The team worked in the stock room and sorted out goods for transportation.
Lutheran Social Services of the National Capital Area -Team members helped newly arriving refugees with housing and basic necessities. The agency's program also includes adoption, foster care, community education, disaster response, and youth haven camps.
Christian Services of Howard County – Team members worked in the Ellicott City women's thrift shop which sells used household goods and clothing to area citizens by painting, cleaning and sorting items.  The agency also provides furniture, food, clothing and other necessities to many charitable organizations in the Maryland and Pennsylvania areas.
Meals on Wheels – Team members packed and prepared meals for seniors and families in need. The team also worked in the kitchen by serving lunch.
Center for Life Enrichment – Team members participated in "Cash Bash," an agency fundraiser, by setting up prior to the event and serving during the event.  The agency provides programs and support services to increase the quality of life for individuals with disabilities, which includes increased interdependence, workforce integration, and the opportunity for social interaction.
Peace Lutheran Church – Team members helped individuals in need to prepare for job interviews and performed general cleaning.
Community Action Council of Howard County – Team members planted vegetables and fruits for distribution to the Howard County Food Bank. Howard County Garden harvests fresh fruits and vegetables for county residents in need.
Bowie Senior Center – Team members prepared meals for senior citizens. They also set up classrooms and read to participants.
Friends of the North Fork – Team members picked up river trash and disposed of it in the local landfill. Friends of the North Fork participate in monitoring the health of the Shenandoah River to include water quality and animal habitat.  They also provide education in the area to the agriculture sector on how to minimize impact on the water ways when using farming practices and host workshops on "green projects" for the community including rain barrels, home composting and sustainable practices on the river.
United Way – Team members participated in "May Day" to help the Boys & Girls Clubs in local areas, by packing, unpacking, and loading goods for a new center opening in Chambersburg, PA.
Harford County Action Agency – Team members helped prepare meals for families in need, cleaned the kitchen, and sorted goods for distribution.
Moveable Feast – The Humphrey Companies corporate office staff helped prepare over 1500 specialized meals for people with HIV/AIDS and other chronic illnesses.  The organization also provides housing, nutritional counseling, medical transportation, and a culinary training program.
Grass Roots Crisis Intervention – Team members prepared lunches, organized linen closets & food pantry, provided and served dinner and planted flowers.  The agency is a 24-hour resource and shelter to individuals and families in need.
Grace Housing – Team members arranged various activities for seniors, performed light maintenance in the kitchen, and helped seniors fill out paperwork for future needs.
Covenant House – Team members helped provide shelter for homeless young adults by cleaning the building and performing general maintenance.
Humphrey Management is a proud supporter of numerous non-profit groups, participating in Community Connections annually, as well as on-going partnerships throughout the year.